Domestic Stakeholders In PHL Maritime Disputes: Impact And Influence On Foreign Policy | A Public Lecture
(Original article from UP Asian Center)
The Center for Integrative Development Studies (CIDS), in partnership with the,UP Asian Center will be holding a public lecture, "Domestic Stakeholders in Philippine Maritime Disputes: Impact and Influence on Foreign Policy" by Professor Aileen S.P. Baviera. It will be held on 3 June 2016, 9 a.m. to 12 n.n. at the GT-Toyota Asian Center Auditorium, UP Asian Center. The lecture is free and open to the public; seating is first-come, first-served, but participants are encouraged to sign up to expedite the registration process on the day of the forum.
About the Lecture
Foreign policy in democratic states is often assumed to be an extension of domestic policy. What is articulated as "national interest" before the international community is ideally a "public good" arrived at, partly at least, through an aggregation of the aspirations, objectives, concerns, and values of domestic constituents. With respect to the Philippines' maritime disputes with China and Taiwan, this paper investigates who the main domestic stakeholders are (at both the national and local levels, governmental, as well as nongovernmental), examines how and to what extent they are affected by the maritime disputes, and explores how these stakeholders interface with foreign and security policy, primarily through the question: do these domestic actors and interests represent vulnerabilities, pressure points, or sources of support for current foreign policy on maritime disputes? The paper then tries to draw implications for future foreign policy objectives.
About the Speaker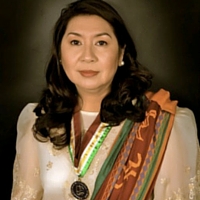 Dr. Aileen SP. Baviera is Professor at the Asian Center, University of the Philippines Diliman. She specializes on and writes about contemporary China studies, China-Southeast Asia relations, Asia-Pacific security, territorial and maritime disputes, and regional integration. The editor in chief of the journal, "Asian Politics & Policy," she is the author of many academic publications, including the "The Domestic Mediations of China's Influence in the Philippines," which will appear in Rising China's Influence in Developing Asia, edited by Evelyn Goh and published by Oxford University Press. She completed her Ph.D. in Political Science at the University of the Philippines Diliman.VIEW FULL PROFILE.
About the Discussants
Chito Sta. Romana is President of the Philippine Association for Chinese Studies (PACS) and Lecturer at the UP Asian Center. Benito B. Velasco is Assistant Secretary of the Maritime and Ocean Affairs Office, Department of Foreign Affairs, Republic of the Philippines.
About the Organizers
As the think tank of the university, The University of the Philippines-Center for Integrative and Development Studies (UP-CIDS) spans various perspectives, methodologies, and ideologies in its conduct of basic and policy-oriented research. The Center harnesses the University's multidisciplinary expertise in its studies on critical fields. Professor Baviera's lecture is an outcome of her year-long research conducted under the UP President Edgardo J. Angara (UPPEJA) Fellowship, which she received last 2015.  According to the UP System press release, The UPPEJA Fellowship aims to "promote high-level policy discussions and research on topics that address national development goals and imperatives."
About the Venue
The GT-Toyota Asian Center Auditorium is inside the GT-Toyota Asian Cultural Center, which houses the UP Asian Center. Please view this vicinity map for your reference. Note in the map that vehicles entering the GT-Toyota Asian Cultural Center compound can only do so through the gate in Magsaysay Avenue. Pedestrians can enter the compound via the very small gate on Guerrero Street. The gate is beside the "Romulo Hall" sign and faces the parking lot of the UP College of Law.
For Inquiries/RSVP
For questions regarding the lecture, please contact CIDS at [email protected] or [email protected] or via [email protected].
Interested parties can fill up the form below.