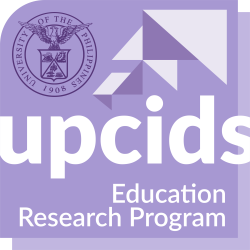 Education Research Program (ERP)
1 virtual round table.png Co-chairs with some of the presenters at the virtual round table hosted by the University of Oxford TalkTogether

Validation and finalization of the Multi-Literacy Assessments for Filipino Children

Presentation of the development of the Multi-literacy Assessments for Filipino Children to reading students

Sipat Edukasyon last November 26, 2021

Presentation of ICT for Education research by Jon Paul Maligalig

Participants of the 7th Reading Association of the Philippines International Conference including Dr. Dina Ocampo, Prof. Margaret Mary Rosary Carmel Fua, and Dr. Portia Padilla Dr. Dina Ocampo
Rationale
From 1991 to 2005, the Education Research Program (ERP)'s research agenda was crafted together with educationists and disciplinal experts to make education research more relevant to communities.
One strand of inquiry in the agenda focused on functional literacy and non-formal education. The emphasis of the research inquiry was on comprehensive community-based development through education interventions for adults.
Another strand of inquiry was on the indigenization of curricula to suit the knowledge, values, practices, culture, and skills of members of indigenous or cultural groups.
Family studies and education inquiries also comprise another set of research projects within ERP.
The institutionalization of the K-to-12 Basic Education Program created major changes in the basic education curriculum which affects not only higher education but also early childhood and technical education. Many transitory scenarios and challenges have come to fore as the Philippines undergoes massive reforms.
---
Objectives
ERP crafted an education research agenda for five years (2018–2023), together with fellows and colleagues who are entrenched in education delivery and/or research.
The objective of the agenda is to direct ERP's work that will contribute to the deeper understanding of education issues and the social issues arising from reform.
Below will be the objectives that will be met by crafting the agenda:
To consolidate research and to create themes of Filipino scholarship on education topics
To understand current issues in the education landscape
To nurture a critical group of faculty researchers on education that is ably supported by competent research staff
Spotting Fake News Online
As internet use and access to social media continue to rise in the Philippines, the production and distribution of false and malicious information online also become more prevalent and sophisticated. With disinformation as a widely used tactic to advance political and commercial interests, it is necessary for online users to find better ways to evaluate information. Based on the online civic reasoning curriculum formed by Stanford History Education Group, the workshop provides strategies and activities to help online users in spotting fake news online.
Dina S. Ocampo, PhD
Convenor
Lorina Calingasan, PhD
Co-Convenor
Margaret Mary Rosary Carmel Fua
Senior Research Associate
Junette Fatima D. Gonzales
Senior Research Associate
Kathrina Lorraine M. Lucasan
Senior Research Associate
Rizza Mae Baligad
Junior Research Assistant
Paulina Regine Miranda
Junior Research Assistant