Researching Higher Education: New Studies on Philippine Higher Education | A Forum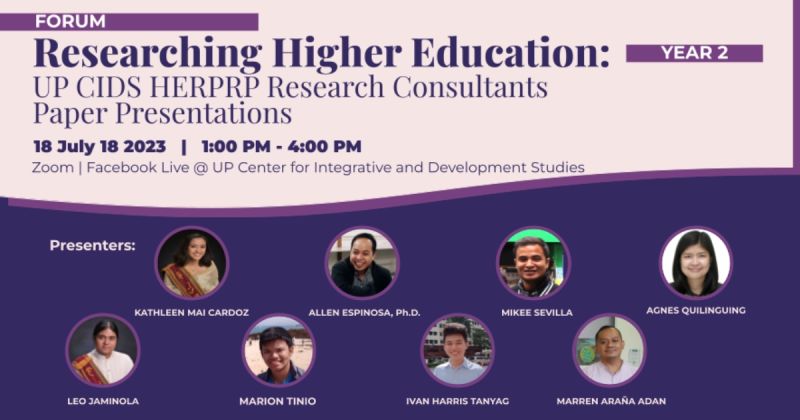 Watch this recording of the online public forum, Researching Higher Education: UP CIDS HERPRP Year 2 Research Consultants Paper Presentations, which was held on 18 July 2023, 1 pm to 4 pm, via Zoom and Facebook Live @ UP Center for Integrative and Development Studies.
Click the title to view the abstract
PRESENTATIONS
Stack up: A discussion paper on the micro-credential frameworks in Europe, Australia, Canada, and Asia
Kathleen Mai Cardoz
---
International Large-scale Assessment, Pre- and In-Service Teacher Education Practice in the Context of Post-Pandemic Teaching-Learning: Notes on Teacher Education Curricular Review
Allen Espinosa, PhD
---
Synergy of Non-Degree Data Upskilling Programs and Higher Education
Mikee Sevilla
---
Mapping of UP System Public Financial Management Processes and Systems: Constraints to Higher Education Service Delivery
Agnes Kristine Arban Quilinguing
---
The Diploma Effect: Examining the Effect of Children's Higher Education on Older Parents' Health in the Philippines
Leo Jaminola
---
The State of Environmental Planning Education in the Philippines After RA No. 10587
Marion Tinio
---
Local Geographic Spillovers of R&D Initiatives of State Universities and Colleges: The Case of the Pili R&D Center in Bicol Region
Ivan Harris Tanyag
---
Deterritorializing Pedagogy and Learning
Marren Araña Adan, MA, LPT
---
CONCEPT NOTE AND ORGANIZER
This webinar showcases the policy papers of the first batch of research consultants of Higher Education Research and Policy Reform Program (HERPRP) for 2022. The Program on Higher Education Research and Policy Reform (HERPRP) aims to chart a research agenda, systematically build an evidence base for policy analysis, and create a network of experts and researchers doing work in this sector. HERPRP also serves as a convening body seeking to build partnerships and working collaborative networks among stakeholders. It is one of 12 Research Programs of the UP Center for Integrative and Development Studies. Learn more and download FREE policy papers on higher education.