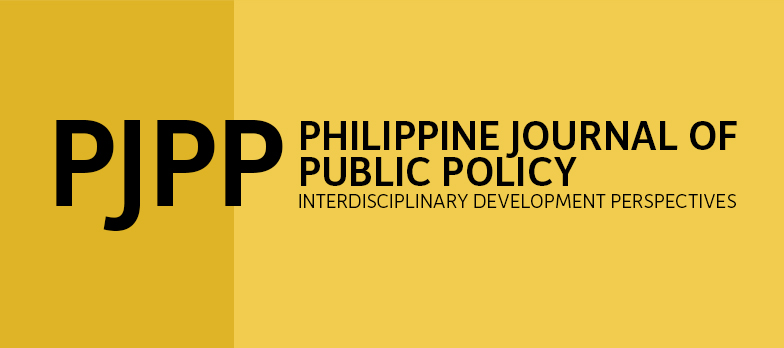 Open Call for Papers

Philippine Journal of Public Policy: Interdisciplinary Development Perspectives (PJPP:IDP), a peer-reviewed journal published biannually by the UP Center for Integrative and Development Studies (UP CIDS), welcomes submissions in the form of full-length manuscripts and book reviews. PPJ provides a multidisciplinary forum for examining contemporary social, cultural, economic, and political issues in the Philippines and elsewhere.
There is no deadline for submissions. Interested authors may submit all year round. Guidelines for submission are outlined in the section below.
Submission Guidelines for PJPP Manuscripts
Authors should submit an electronic copy (in .doc or .docx format) to the Editor at 

[email protected]

with the subject "PJPP Submission – [Author's Last Name]".
Manuscripts submitted must be original and unpublished work which are not under consideration for publication elsewhere. By submitting a manuscript, the authors agree that the exclusive rights to reproduce and distribute the article have been given to the UP Center for Integrative and Development Studies (UP CIDS).
The text should be double-spaced, set in a 12-point font, and employ italics rather than underlining (except for URL addresses), and all illustrations, figures, and tables are
placed within the text at the appropriate points, rather than at the end.
The manuscript should comprise between 6,000 to 10,000 words, inclusive of references and/or bibliography.
The manuscript must include an abstract of no longer than 300 words. A list of up to 6 keywords, suitable for indexing, abstracting services, and on-line searching purposes, must
also be provided.
PJPP uses the author-date system of the Chicago Manual of Style (16th or 17th Edition) for in-text citations. A complete list of references cited should be provided at the end of the text. Notes, if any, must be kept to a minimum and placed at the end of the article, before the list of references.
The author should likewise provide a brief biographical note on a separate sheet. This sheet must include the author's full postal and e-mail addresses, as well as telephone and/or fax
numbers.
As PJPP undertakes a double-blind peer review process, authors should be prepared to rewrite their articles in accordance with the comments and suggestions of referees.