Sipat Edukasyon 2022: A Research Dissemination Forum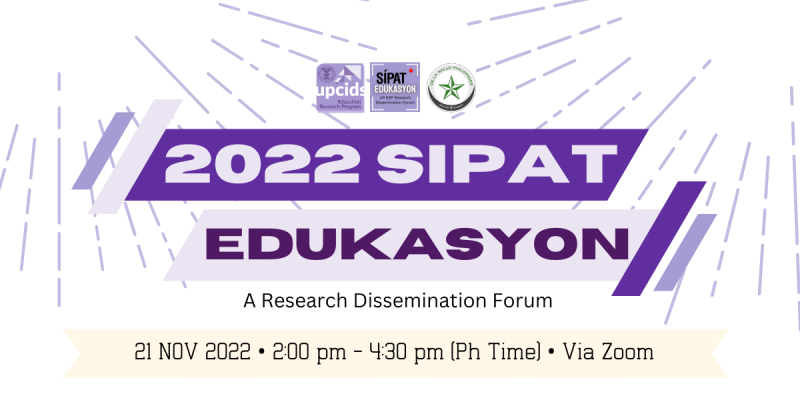 Please view the recording of the online research dissemination forum via Zoom, "Sipat Edukasyon 2022," which was held on  21 November 2022, 2:00 pm to 4:30 pm, Philippine Standard Time.
About the Forum

Sipat Edukasyon is the annual research dissemination forum of the Education Research Program of the University of the Philippines Center for Integrative and Development Studies (UP CIDS). It aims to share ERP's research output with various stakeholders and to generate discussions to encourage future studies.
For this year, Sipat Edukasyon 2022's presentations cover language experiences of children, multiliteracy assessments, and fighting disinformation. The forum will be moderated by Dr. Dina Ocampo, Co-Convenor of the ERP and Professor at the UP College of Education. Co-organized with De La Salle Philippines, Sipat Edukasyon 2022 will also be livestreamed at the Facebook page of UP CIDS.
---
Presentations and Speakers

Click on the titles to view the abstracts (new tab) or view the gallery below:
Developing the Multi-literacy Assessments for Filipino Children: Kindergarten to Grade 3
Margaret Mary Rosary Carmel Espenilla-Fua
Kathrina Lorraine Lucasan
Mariah Erika Manlangit
Case Studies on Oral Language Experiences of Children in the Home Setting
Leonor Ercillo Diaz
Marie Yvette Concepcion-Alcazar
Romina Palma Beltran-Almazan
Charo Marie Defeo-Baquial
Hazelle Preclaro-Ongtengco
Melanie Joy Gunio
Communicative Language Use of Children in Low-Income Communities: Research to Build On
Jennica Varias
Audrey Morallo
Rizza Mae Baligad
Investigating How Teachers Assess the Trustworthiness of Online Information
Lorina Calingasan
Junette Fatima Gonzales
Karen Angela Hernandez