Marx Bicentennial Lecture Series No. 15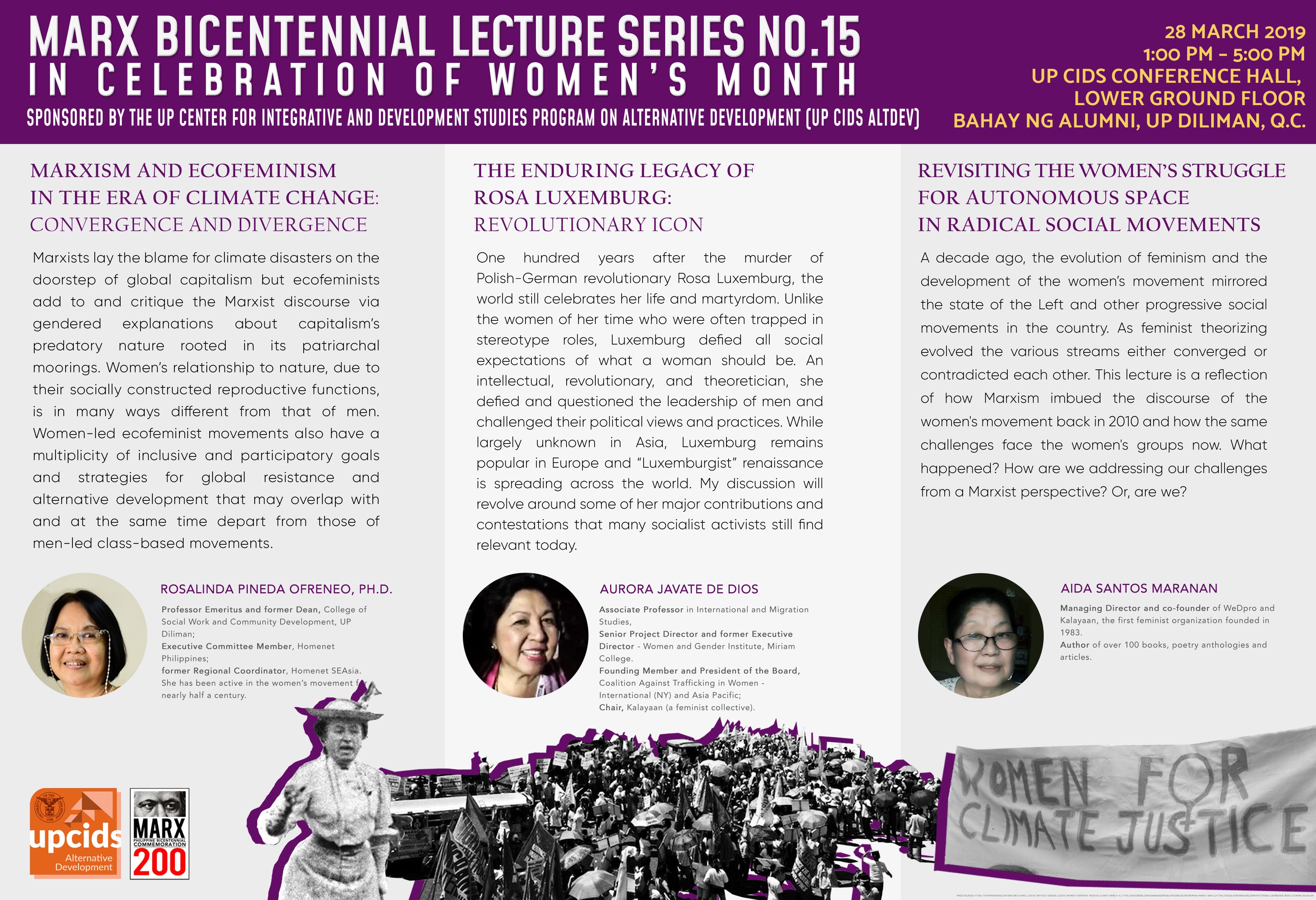 In celebration of Women's Month, the Marx Bicentennial Lecture Series No. 15 invites everyone to listen to lectures on women and social movements by women scholar-activists. Join the discussion on 28 March 2019 (Thursday), 1:00 to 5:00 PM, at the UP CIDS Conference Hall, LGF Ang Bahay ng Alumni, UP Diliman.
This event is organized by the UP CIDS Program on Alternative Development. For registration details and more information, visit bit.ly/marx200ph or email [email protected].
The Lectures
Marxism and Ecofeminism in the Era of Climate Change: Convergence and Divergence
Speaker: Rosalinda Pineda Ofreneo, Ph.D. (Professor Emeritus and Former Dean, UP College of Social Work and Community Development (UP CSWCD); Executive Committee Member, Homenet Philippines; Former Regional Coordinator, Homenet SEAsia; Has been active in the women's movement for nearly half a century)
About the Lecture: What did Marx say about the environment and what are Marxists saying about it now? This question acquires urgency in the era of climate change, when the web of life is fraying, and we are all experiencing its grave consequences that are felt more intensely among the poor and vulnerable. Governments are not doing enough to halt or contain global warming, and the blame from the Marxian perspective lies on the doorstep of global capitalism. Ecofeminists, however, add to and critique the Marxist discourse via gendered explanations about capitalism's predatory nature stemming from its patriarchal moorings. Women's relationship to nature, due to their socially constructed reproductive functions, is in many ways different from that of men. Women-led ecofeminist movements also have a multiplicity of inclusive and participatory goals and strategies for global resistance and alternative development that may overlap with and at the same time depart from those of class-based movements traditionally led by men.
The Enduring Legacy of Rosa Luxemburg: Revolutionary Icon
Speaker: Aurora Javate de Dios, Ph.D. (Associate Professor in International and Migration Studies and Senior Project Director and former Executive Director, Women and Gender Institute, Miriam College; Founding Member and President of the Board, Coalition Against Trafficking in Women–International (NY) and Asia Pacific; Chair, Kalayaan Feminist Collective)
About the Lecture: One hundred years after the brutal murder of Rosa Luxemburg—the leader of the Spartacus League and a militant revolutionary who opposed reformism—the world still remembers and celebrates her martyrdom. Who is Rosa Luxemburg and why does her legacy still resonate with the Left movement today? Unlike the women of her time, Luxemburg defied all social expectations of what a woman should be and was a theoretician, revolutionary leader and an intellectual. The discussion will revolve around some of her major contributions and contestations on Marxism—ideas that many socialist leaders and practitioners still find relevant today.
Revisiting the Women's Struggle for Autonomous Space in Radical Social Movements
Speaker: Aida Santos Maranan (Managing Director and Co-founder, WeDpro and Kalayaan; Author of over 100 books, poetry anthologies, and articles)
About the Lecture: A decade ago, the evolution of feminism and the development of the women's movement mirrored the state of the Left and other progressive social movements in the country. As feminist theorizing evolved the various streams either converged or contradicted each other. This lecture is a reflection of how Marxism imbued the discourse of the women's movement back in 2010 and how the same challenges face the women's groups now. What happened? How are we addressing our challenges from a Marxist perspective? Or, are we?