EMIT:C4C conducts first public conference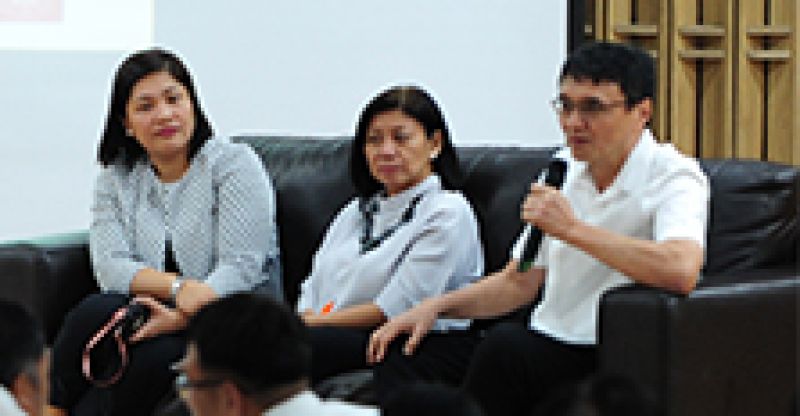 The Program on Escaping the Middle Income Trap: Chains for Change – Partnerships for Inclusiveness and Competitiveness (EMIT:C4C), in collaboration with the Rotterdam School of Management, Erasmus University (RSM), conducted its first public conference, "Chains-for-Change: Emerging Lessons on Inclusive Agriculture Value Chains" last 18 July 2018 at the UP School of Economics Auditorium.
The conference gathered one hundred and thirty one (131) attendees from the academe, national government, local governments, civil society, international organizations, banking and microfinance sectors, agri-business and agri-enterprise sectors, farmers cooperatives and groups, corporations, and corporate foundations, which are all stakeholders in agriculture value chain research, financing, and practice playing vital roles in bridging smallholders to the formal market.


Key themes and findings drawn from EMIT:C4C's first loop of action research projects conducted in 2017 were presented at the forum. This first set of action research focused on case studies of three value chains, namely Jollibee Group Foundation (JGF)'s Farmer Entrepreneurship Program in Nueva Ecija and Cebu; PinoyME Foundation and Caritas Diocese of Libmanan's Saradit na Kristiyanong Komunidad Rice Processing Center in Camarines Sur; and Unifrutti Tropical Philippines and Hineleban Foundation's transformational and peace-centric model in Bukidnon, Davao, and Maguindanao.
UP System Vice President for Academic Affairs Dr. Ma. Cynthia Rose Banzon-Bautista delivered the welcome remarks and provided an overview of the EMIT:C4C Program, which was followed by sessions featuring discussions highlighting the role of partnerships, governance structures, local intermediaries, and smallholders in inclusive value chains and agricultural financing.


From the sessions and discussions, ways forward and emerging agenda were tackled. Ms. Grace Tan Caktiong, JGF President, discussed the agenda for inclusive business, while UP Center for Integrative and Development Studies (UP CIDS) Executive Director Dr. Teresa Encarnacion Tadem talked about next steps in the realm of research and raised points for reflection for the researchers. Assistant Secretary Felicitas Agoncillo-Reyes of the Department of Trade and Industry's Board of Investments shed light on the developments and agenda for the government, particularly in the area of inclusive business. Her Excellency Marion Derckx, Ambassador of the Kingdom of the Netherlands to the Philippines, discussed arising strategies in the field of cross-sector partnerships in inclusive value chain and business development to benefit marginalized sectors, such as agricultural smallholders.
Dr. Rob van Tulder of the Rotterdam School of Management also launched a special edition of his book, "Business and the Sustainable Development Goals (SDGs)," at the forum. The book provides a framework for businesses to become inclusive and grounded on the United Nations' SDGs and encourages engagement in meaningful and synergistic partnerships geared towards the common goal of inclusivity and sustainability.
Another highlight of the public conference was the inauguration of the EMIT:C4C Partnerships Center for Inclusiveness and Competitiveness as "a safe partnering space" for inclusive value chain development within the confines of academe. The UP CIDS, the home of EMIT:C4C Program in the Philippines, and the Rotterdam School of Management of Erasmus University, which extends its expertise on inclusive business, business and society, and value chains, along with partners from the public and private sector, were acknowledged.


The Program on Escaping the Middle-Income Trap: Chains for Change – Partnerships for Inclusiveness and Competitiveness (EMIT:C4C) of UP CIDS aims to develop action research cases on frontrunner companies and civil society organizations (CSOs) engaged in agriculture value chains. Its primary interest is to scrutinize and understand the key elements that would enable inclusive and sustainable partnerships in Philippine agricultural value chains in order to effectively involve and benefit smallholders, indigenous peoples, and other rural poor populations. The program intends to build collaborative learning and cross-sectoral partnerships for inclusive and sustainable agriculture value chains among corporations, CSOs, government agencies, the academe, and farmer groups.
(Event write-up by Camia Tangco, Junior Research Associate, Program on Escaping the Middle-Income Trap: Chains for Change; Photos courtesy of Jollibee Group Foundation and Lean Velasquez)