COVID-19 and the Indo-Pacific: Emerging Trends and Opportunities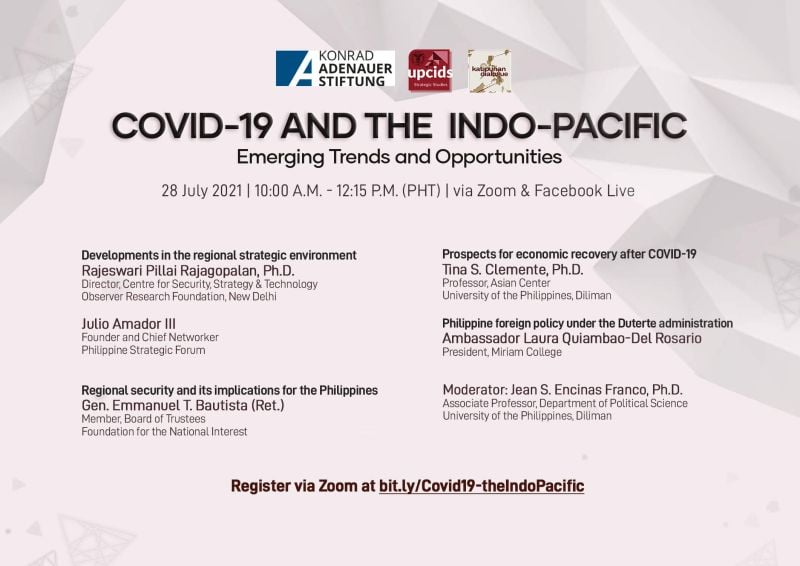 The Strategic Studies Program (SSP) of the University of the Philippines Center for Integrative and Development Studies (UP CIDS), in partnership with Konrad-Adenauer-Stiftung Philippines, invites you to the webinar, "COVID-19 and the Indo-Pacific: Emerging Trends and Opportunities," happening on 28 July 2021, 10:00 a.m. to 12:15 p.m. (PH), via Zoom.
About the Webinar
This webinar seeks to examine the transformations that have taken place in the strategic environment—such as on international politics, the economy, and the security architecture—as a result of the COVID-19 pandemic and to identify its consequent challenges and opportunities for the Philippines and the Indo-Pacific.
The webinar takes off from the discussions in the Katipunan Dialogue, a podcast series produced as the sixth iteration of the SSP's annual Katipunan Conference. Launched in 2015, the Katipunan Conference serves as a platform for discussing current and emerging issues that impact Philippine foreign policy and the region. It undertakes a strategic scan of the international and regional environment from multiple perspectives to produce practical and informed policy opinions and decision-making aids for various stakeholders.
Topics and Speakers
Developments in the Regional Strategic Environment
Rajeswari Pillai Rajagopalan, Ph.D.
Director, Centre for Security, Strategy, and Technology,
Observer Research Foundation, New Delhi
Julio Amador III
Founder and Chief Networker,
Philippine Strategic Forum
Regional Security and Its Implications for the Philippines
Gen. Emmanuel T. Bautista (Ret.)
Member, Board of Trustees,
Foundation for the National Interest
Prospects for Economic Recovery After COVID-19
Tina S. Clemente, Ph.D.
Professor, Asian Center,
University of the Philippines Diliman
Philippine Foreign Policy Under the Duterte Administration
Ambassador Laura Quiambao-Del Rosario
President, Miriam College
Registration and Inquiries
To join, register via Zoom at bit.ly/Covid19-theIndoPacific until 28 July 2021, 9:00 a.m. For inquiries, email [email protected].