Spotting Fake News Online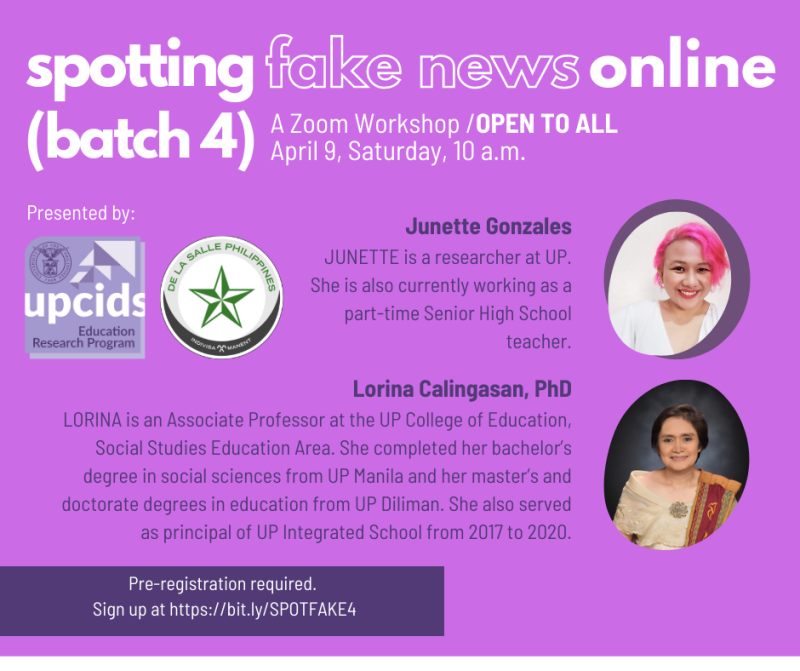 "Spotting Fake News Online" workshop is now on its fourth run. This event is brought to you by UP Center for Integrative and Development Studies Education Research Program, in partnership with De La Salle Philippines. The event is free and open for all. Registration is needed to participate in the event.
Register now at: https://bit.ly/SPOTFAKE4
The workshop will be on April 9, 2022, 10:00 AM to 12:00 NN via Zoom.
The event includes plenary and break-out sessions with hands-on activities.
As internet use and access to social media continue to rise in the Philippines, the production and distribution of false and malicious information online also become more prevalent and sophisticated. With disinformation as a widely used tactic to advance political and commercial interests, it is necessary for online users to find better ways to evaluate information. Based on the online civic reasoning curriculum formed by Stanford History Education Group, the workshop provides strategies and activities to help online users in spotting fake news online.
During its first run, the workshop had 98 teacher participants. By the second run, when the workshop became available to all, it garnered 250+ participants, including individuals from the deaf community. Equally successful was its third run, where 100+ individuals signed up alongside 2 participants from the Indigenous People's Community.
For inquiries and questions regarding the event, kindly contact [email protected] or [email protected].